[News] 2012-08-28「舞臨盛宴世界巡迴演唱會」新加坡站 Aaron Kwok De Showy Masquerade World Tour Live in Concert 2012 - Singapore Station
變形金剛舞臺、3D光影對跳、淩空勁舞!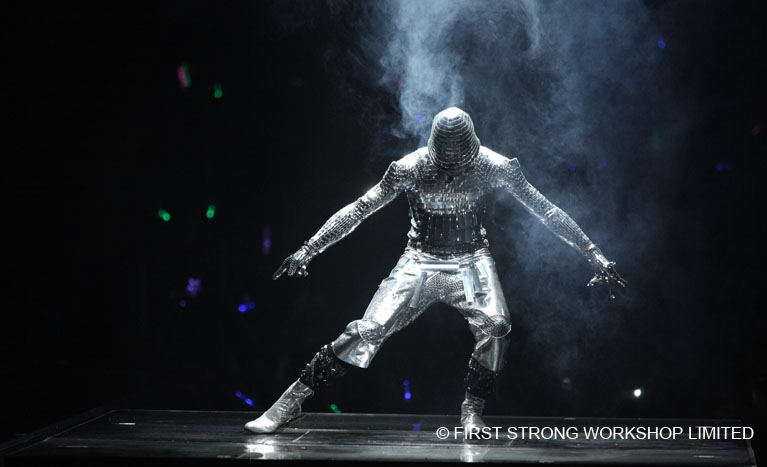 「舞台王者」郭富城 九月登臨新加坡!在香港刷新了十七場的世界巡迴演唱會《舞臨盛宴》將於九月在新加坡設宴,以歌會舞。
繼2008年「舞林正傳演唱會」的450゚旋轉舞台打入健力士記錄,這次更投資了鉅款打造出一個重金屬 「變形金剛」 舞台。單是可以變化出八款不同的形狀, 內設二十一個升降台的舞台,就耗資了一千二百萬,創下了香港史上最貴的演唱會。舞台還能分形拆移,從底部升上六個不同大小,接近三層樓的彈床,城城將與十多位舞蹈員從彈床跳到另一個彈床,並做出前空翻及多個高難度的動作。
這個演唱會不但舞台變化萬千,連城城的造型也是吸睛力超強,一頭銀白頭髮再加上超炫的舞台戰衣,令城城極具王者霸氣。全場的舞台服裝連同四十位舞蹈員衣服,已超過港幣三百萬,全人手製作,重達十磅的黃金戰衣價值港幣四十五萬,而銀狐造型就花了二十五萬港幣。這次的演唱會,身材結實的他即將率領廿多名舞蹈員與編舞師Sunny Wong鬥舞,必定令新加坡觀眾們看得熱血沸騰!城城更將挑戰人體極限,將高難度的體操造型融入舞蹈中,把力、美、勁完全體現出來。
「舞臨盛宴演唱會」成就了舞台的新章,開創了演唱會的先河。這場盛宴,你怎能不品嘗!
「 郭富城舞臨盛宴世界巡迴演唱會2012 」 新加坡站
演唱會日期:2012年 9月8日
演唱會地點:新加坡室內體育館
票價:SGD$238/ 188/ 138/ 88
--------------------------------------------------------------------------
Aaron Kwok De Showy Masquerade World Tour Live in Concert 2012 - Singapore Station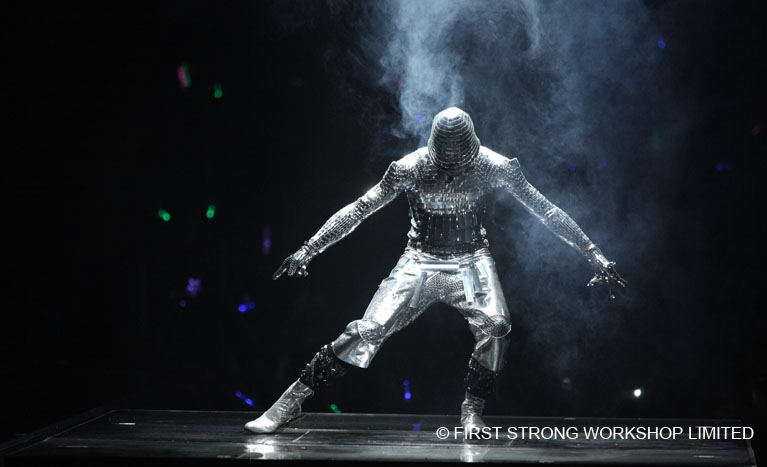 Asia's King of Pop - Aaron Kwok, having just descended from 17 performances in Hong Kong, Aaron is set to wow Singaporean audiences with "De Showy Masquerade World Tour Concert" come September this year.
Back in his 2008 concert, Aaron's revolving stage smashed its way into the Guinness World Records as the largest indoor revolving stage ever. This year, Aaron is making history once again with his $HK 12 million "Transformer" stage, which can morph into eight different shapes and comes equipped with 21 lifting mechanisms. The stage also has the potential to produce six trampolines of different sizes, transformed from the bottom of the stage, allowing Aaron and more than a dozen of his dancers to somersault from one trampoline to another!
The climax of the concert will see Aaron making use of the trampolines to fly two meters through the air, while performing breathtaking dance moves. The stunt carries an element of danger due to the limited surface area of the trampolines. However, intensive practice sessions have enabled Aaron to master the feat within three weeks, which would normally have taken others at least one to two years to achieve.
This concert not only promises to blow your mind away with its avant-garde stage design, it will also offer you a dazzling array of outfits to feast your eyes upon. With a head of silver and decked in extravagant battle attire, Aaron really looks every bit the Asian King of Pop that he is. The cost of the entire collection of hand-made outfits of all the dancers chalk up more than $HK 3 million, with $HK 450 000 going to Aaron's 10-pound "Gold Armor" and $HK 250 000 going to his "Silver Fox" look.
Aaron Kwok De Showy Masquerade World Tour Live in Concert 2012 - Singapore Station
Show Date : 8 Sep 2012
Show Time : 20:00
Venue : Singapore Indoor Stadium
Ticket Price : SGD$238/ 188/ 138/ 88